Bargello Museum of Sculpture
Orsanmichele Church (exterior)
The New Duomo Museum (Museo dell'Opera del Duomo)
Michelangelo's David (on request)
THE GOLDEN AGE OF FLORENTINE SCULPTURE
ABOUT FLORENTINE SCULPTURE – At the end of the 14th century Florence was in full urban expansion and many great public buildings were still to be completed and were waiting for their sculptural decoration.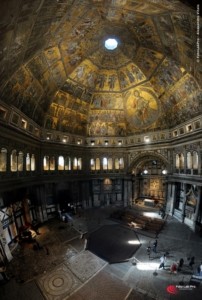 The organization of the work was changing: while medieval construction sites were conceived as a community of artists and artisans working together at one single great project, the new creative centers were the individual artisans' workshops.
A workshop consisted of a master artisan and his team of collaborators.
This new working system not only greatly increased the autonomy of the creativity but also improved the constructive techniques.
Working in an atelier was much more comfortable and provided a much better equipment than sculpting directly on the construction site.
During the course of the Quattrocento Florence experienced an extraordinary flourishing of stone and marble workshops, in 1470 it could boast 54 of them!
Stylistically, the Gothic tradition, with its linearism and its taste for elaborate decorations, gives way to a totally new way of conceiving the work of art, allowing Florence to initiate the extraordinary season of the Renaissance.
Much earlier than painters, sculptors began to rediscover the aesthetic values and the techniques of classic art. This phenomenon went hand in hand with the revival or Greek and Roman texts perpetrated by the humanists.
During the course of the century statues ceased to be just architectural complements.
The iconography, until then almost exclusively dealing with religious themes, expands to mythology, modern history, portraits.
Medals, equestrian monuments, small bronzes were back in fashion after so many centuries.
This tour lasts three hours and costs 255 euros up to six people (not per person), only private parties.
For larger parties send us an email
Admission fees: Bargello: 9 euros (closed alternatively on Sundays and Mondays); Opera del Duomo Museum: 11 euros (closed on Tuesdays)
If you wish to add the Academy to see the David it will be a 4 hour tour.
Cost for this tour: 340 euros up to 6 people for larger parties please inquire at email
Admission to the Academy (with pre booking, we take care): 24 euros per person (closed on Mondays)
No sleeveless garments, short sleeves are ok.
No shorts, knee high are ok
Comfortable shoes or sandals and a hat in summer.