Stroll with introduction to Venice history and lifestyle
St Mark's Square with description of all main architectures
St Mark's Basilica – with priority entrance
Overview of St Mark's waterscape
Walk into Castello district
Rialto Bridge and Market area with views on the Grand Canal
YOUR FIRST WALK IN VENICE
YOUR FIRST WALK IN VENICE  – As the whole city is an open-air museum, our guide will start introducing Venice's history as soon as we step out of the hotel or apartment. Every corner of this fascinating city is centuries old and has its own stories to narrate.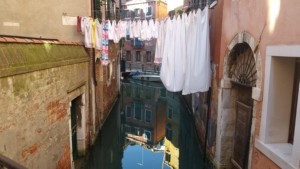 With our Venice first walk in town will get oriented in the maze of alleys and canals, and will hear about how today's administrators deal with the maintenance of this huge and fragile heritage. Our guide will inform you about the number of residents and more.
Venice: your first walk in town will head first to St. Mark's Square, that was for over 900 years the political center of the Venetian Republic, where a considerable number of "must-sees" are waiting for us. It will be crowded, but we'll sneak in!
The whole Square was designed to impress and to show how powerful, wealthy, cosmopolitan. modern, well ruled Venice was. All its famous buildings – St Mark's Basilica, the Doges' Palace, the Bridge of Sighs, the Marciana Library, the Bell Tower, the Clock Tower, the two Procuratie, will be sketched with a brief historical background.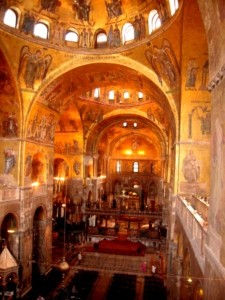 From April 1st until October 31st (Sunday mornings excluded) we'll use our priority access to St Mark's Basilica. Originally designed in the 9th century to enshrine the body of the Evangelist Mark, it was rebuilt in the 11thcentury (consecrated in 1094) and richly embellished with mosaics, marbles and bronzes during the 12th and 13th centuries.
It is known all over the world for its Byzantine architecture, its colorful and eclectic façade, its precious golden mosaics, its intricate stone and marble traceries and exuberant Middle Eastern domes. Designed when Venice traded mostly through Constantinople, St Mark's oriental charm and decorative wealth will certainly intrigue you.
'Venice: your first walk in town' goes on with a stroll along the waterfront, to admire and photograph the exceptional waterscape and the spectacular row of architectures, starring St Giorgio Maggiore, the Redentore and the Salute Churches, we'll walk again in quieter back streets and continue exploring. Skipping as much as possible the most commercial areas, and savoring the city.
This tour lasts three hours and costs 295 euros up to six people (not per person), only private parties.
For larger parties send us an email!
Admission fees per person: St Mark's Basilica: 7 euros
Short sleeves and kneee high are ok
No sleeveless and no shorts/skirts above the knee
Better if you don't bring any backpack with you.
During Sunday

morning

Mass and other Catholic Holidays there

will be no access to St Mark's Basilica